All Couples Should Learn To FIght Fair. Here's How
Check out our mini-guide on how to fight fair, and stop letting badly handled conflict cause pain in your relationships. Download it NOW!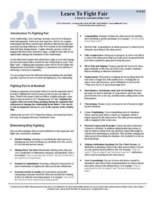 Support this ad free conflict resolution site by sharing this page with your social media contacts. That helps us help you.
Search Our Network Of Business and Personal Development Sites
Increase your understanding of conflict in groups and teams
Team Conflicts
Robert Bacal's Conflict Related Articles Library - Conflict Related To Teams
Conflict doesn't only occur on a one-to-one basis but also occurs in groups and teams. In fact conflict is one of the primary areas that can threaten a team's ability to function effectively. Articles on this page pertain to dealing with conflict more effectively within a team or group conext.. New material is added regularly so be sure to
sign up for our free newsletter so you'll be notified of new material
This page contains articles related specifically to conflict in a group context.
How To Be A Better Team Contributor
Where to start if you want to build better, less conflicted teams? Why, with yourself. This article deals with what people can do to contribute to the success of their teams, beginning with taking personal responsibility.
Principles of Credibility In Public Speaking
When someone speaks in front a group, he or she can set things up to be attacked, or lay the groundwork for a cooperative group or audience. Eventually, the reception one gets comes down to credibility. This article explains how to create it.
Sharpening The Decision Making Process In Groups - Fighting Groupthink
Sometimes bad decisions are made in groups because people are trying to go along to get along, thus resulting in the groupthink process. Find out how teams can avoid falling into this trap.
About Team Building - The Manager's Role
Learn how managers can contribute to the team building process.
Six Deadly Sins of Team Building
Sometimes team building can go wrong and create conflict, dissension, and resentment. Find out about the six common team-building sins.
When Teams Aren't Important Or Desired
Teams aren't always the solution to everything. In fact relying on teams when they are unimportant or even undesirable can result in heightend frustration, anxiety and conflict.