All Couples Should Learn To FIght Fair. Here's How
Check out our mini-guide on how to fight fair, and stop letting badly handled conflict cause pain in your relationships. Download it NOW!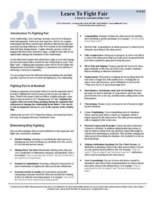 Support this ad free conflict resolution site by sharing this page with your social media contacts. That helps us help you.
Search Our Network Of Business and Personal Development Sites
Learn To Cut Unnecessary Conflict At Work
Reduce Conflict At Work By Changing The Words And Phrases You Use: LearnBytes
You can learn to improve your workplace relationships by making some small, and easy accomplished changes to the way you use language.
The Point: Some people call it personality conflict. You know the situation. Where you can't seem to get along with a few people, and can't really figure out why? Much of the time, the problem is one of communication, both your's and how the other person communicates.
---
Often work conflicts that we call personality conflicts are really about how YOU and the other person communicate, and that's good, because you can learn to change that.
---
You can't do a lot about other people, but you can learn to change the words you use to reduce unnecessary conflict in the workplace. This card teaches you to eliminate phrases and words that are likely to cause conflict, and explains how to replace them with other ways to say things. In other words we explain how to sound more cooperative and less confrontational.
Here's a quote from the actual card:
People look at your communication BEHAVIOR. If it is confrontational, people will react negatively. If it is cooperative, even difficult people will be more likely to "work with you". You can save yourself a considerable time, aggravation and stress by learning how to use language in cooperative ways.

Not only that, your organization is much more likely to recognize your ability, if you are a more cooperative sounding person.
What's included?
Explanations of Confrontational and Cooperative language
Learn to eliminate absolutes
Learn to eliminate blaming statements
Learn to eliminate command statements
Learn to eliminate mistrust statements, confrontational questions and non-responsiveness
Other tips
Techniques on this card are taken from the Bacal & Associates book, Conflict Prevention In The Workplace - Using Cooperative Communication
Uses: This LearnBytes helpcard has a number of use. People perceived as talented and promising, and thereby more likely to be promoted or receive pay raises, tend to communicate more effectively at work. So, this card is appropriate to anyone who wants to learn to communicate to reduce conflict. That includes line employees, supervisors and managers.
Managers, human resource professionals and those involved in career development might want to use this card as a basis for helping specific employees improve their communication at work. We recommend it be used as a starting point for discussion with staff and coupled with coaching.
Finally, seminar leaders may want to use this card as a handout in their communication courses. We offer bulk licencing rates so it is affordable to do so.