All Couples Should Learn To FIght Fair. Here's How
Check out our mini-guide on how to fight fair, and stop letting badly handled conflict cause pain in your relationships. Download it NOW!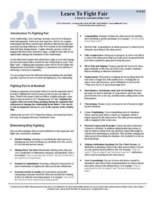 Support this ad free conflict resolution site by sharing this page with your social media contacts. That helps us help you.
Search Our Network Of Business and Personal Development Sites
Top : Conflict Case Studies and News:
Find real life stories and news about conflict management and resolution, including case studies.
Conflict Resolution Training Found to Curb School Violence

By Leonard Holmes

- In a study published in the April issue of Children and Schools, a journal from the National Association of Social Workers (NASW), author Debra Woody, LMSW-ACP, PhD and Assistant Professor at University of Texas at Arlington, explains that conflict resolution curbs these less extreme acts of violence. Training about conflict resolution increased students knowledge of non-violent means to resolve conflict; facilitated a more positive attitude about non-violent conflict resolution methods; and reduced the frequency of violent confrontations in the school.

(Added: 18-Nov-2003 Hits: 3453 )
| Library Home Page |
Pages Updated On: 28-Jul-2017 - 11:17:38
Bad Resources Removed Dec. 10, 2012