All Couples Should Learn To FIght Fair. Here's How
Check out our mini-guide on how to fight fair, and stop letting badly handled conflict cause pain in your relationships. Download it NOW!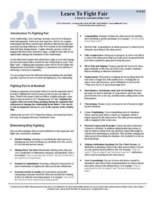 Search This Site and Our Network
Now you can search this site on conflict but also our other sites on management, communication, planning, and lots more.
Top : Difficult Conversations:
Difficult conversations, or crucial conversations involve things that need to be said, but the other person or person is bound to have their feelings hurt or react negatively. In this section we'll look at methods to talk about difficult, awkward topics with people you care about.
We Have to Talk: A Step-By-Step Checklist for Difficult Conversations | Judy Ringer

By Judy Ringer

- What you have here is a brief synopsis of best practice strategies: a checklist of action items to think about before going into the conversation; some useful concepts to practice during the conversation; and some tips and suggestions to help you stay focused and flowing in general, including possible conversation openings.

(Added: 25-May-2015 Hits: 544 )
| Library Home Page |
Pages Updated On: 14-Sep-2016 - 12:55:03
Bad Resources Removed Dec. 10, 2012