All Couples Should Learn To FIght Fair. Here's How
Check out our mini-guide on how to fight fair, and stop letting badly handled conflict cause pain in your relationships. Download it NOW!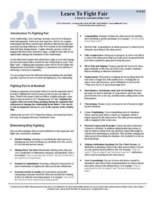 Stop Harming Your Relationship With Your "Big Mouth"
101 phrases you should never use with someone you care about, and what to say instead. Click the image to learn more from the Amazon page.
Available In
Need Exercises And Learning Activities To Teach Conflict Skills?
Check out our free collection of group and training activities. Click here.
Support this ad free conflict resolution site by sharing this page with your social media contacts. That helps us help you.
Search Our Network Of Business and Personal Development Sites
Doing Business Abroad - Cross Cultural Challenges, Issues And Solutions
With a huge surge in development in other countries, more and more of us are doing business, and interacting abroad. While the opening up of markets and additional opportunities for international business is a huge boon, it also means that those who work in other countries, or with those from other countries need to hone multi-cultural communication skills and our understanding of other countries and how they do things.
Below you'll find more resources that can help you understand how to communicate more effectively when working abroad or working with people from other countries.
Some Cautions:
Cultures and "Norms" Are Not Universal In Any Country
You may have seen summaries of a specific culture -- for example, how people in Japan behave and communicate, and how it might be different from your homeland. You must be aware that these are generalizations, and that within each country are sub-groups who are quite different from each other. Do not make the mistake of taking generalizations about a culture as universal.
Don't Make Assumptions, And Instead, Ask
Related to our first caution above, don't make assumptions about a particular person's approach to communication, and culture. Ask. Don't wait until you aren't "sure", but ask as many questions as you can, show interest in others, and you'll learn and avoid mistakes.
Learn The Language Or At Least Some Of It And Don't "Expect" Everyone To Speak Your Language (English)
Most people appreciate it if a "foreigner" at least makes an effort to learn their language. Even if you will never be fluent, it shows respect to at least learn to say basic things in the other language. It shows you care.
Stop Comparing And Judging Their Ways
Cultures exist on their own, and if you constantly compare "their" culture" to yours, you won't be as open to learning their ways.
While its understandable to judge certain things in a culture that go against your principles (status of women in a culture is an example), remember that you are NOT going to change a culture, and that it's not your job to do so. If you object to their ways, you have two choices: Accept them as their reality, or leave. You can't be in the middle.
Conclusion
There are tons of resources on other cultures. As you read the various information below, please remember:
Do Not Over-Generalize About a Country
More Information On Arbitration To Address Conflicts
Related Conflict and Communication Topics
| Library Home Page |
Pages Updated On: 28-Jul-2017 - 11:17:38