All Couples Should Learn To FIght Fair. Here's How
Check out our mini-guide on how to fight fair, and stop letting badly handled conflict cause pain in your relationships. Download it NOW!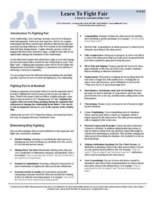 Search This Site and Our Network
Now you can search this site on conflict but also our other sites on management, communication, planning, and lots more.
Top : Meetings - Managing Conflict:
Meetings are often where conflict between individuals breaks out from a simmering state to boiling over, creating hard feelings, waste of time, and productivity. In this section, you'll find ideas on how to reduce unnecessary conflict in various kinds of meetings.
How to Defuse Workplace Conflict at a Team Meeting

By Nicole Long

- When ignored, conflict in the workplace interferes with the creation and sustainability of a productive and efficient work environment. Whether conflict takes the form of an employee constantly interfering, or a worker deliberately attacking ideas and causing a scene, conflict can put a stop to team progress and stifle the creativity and participation of other team members. Learning how to diffuse workplace conflict during a team meeting can help the team reach its goals.

(Added: 15-Jul-2014 Hits: 582 )
Managing Conflict in Meetings - Communication Skills

By Mindtools

- Many of us have experienced tension and conflict in meetings. This can be exciting and energizing, but it can also hurt the team's progress and morale. If you're in charge of a meeting and conflict occurs, what is your role? How do you restore peace? While you can't always prevent conflict in meetings, there are many things you can do to stop disagreements from damaging your team's wider goals. Consider: Can you set up your meeting to reduce the risk of conflict? How do you turn the conflict and tension into a positive force, and one that generates better solutions and results? ... We'll look at each of these....

(Added: 15-Jul-2014 Hits: 589 )
How to Manage Conflict in Meetings For Chairs And Attendees

By Eugene Mota

- Both meeting chairs and individual meeting attendees can do things to minimize conflict at meetings, or at least minimize the negative outcomes and hard feelings. Here's advice for both.

(Added: 15-Jul-2014 Hits: 280 )
| Library Home Page |
Pages Updated On: 14-Sep-2016 - 12:55:03
Bad Resources Removed Dec. 10, 2012