All Couples Should Learn To FIght Fair. Here's How
Check out our mini-guide on how to fight fair, and stop letting badly handled conflict cause pain in your relationships. Download it NOW!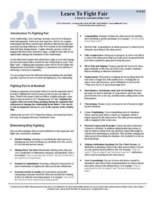 Search This Site and Our Network
Now you can search this site on conflict but also our other sites on management, communication, planning, and lots more.
Top : Online Media Related To Conflict:
Here you can access online media (podcasts, audio programs, videos, even online courses) on the topic of conflict and anything related.
How To Give A BIFF Response(SM) In Online Communication

By Bill Eddy

- Written before social media became popular but excellent tips on how to respond to conflict and attacks in written and social media text situations applying the author's BIFF model.

(Added: 27-Nov-2014 Hits: 439 )
| Library Home Page |
Pages Updated On: 14-Sep-2016 - 12:55:03
Bad Resources Removed Dec. 10, 2012