All Couples Should Learn To FIght Fair. Here's How
Check out our mini-guide on how to fight fair, and stop letting badly handled conflict cause pain in your relationships. Download it NOW!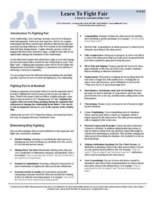 Search This Site and Our Network
Now you can search this site on conflict but also our other sites on management, communication, planning, and lots more.
Top : Political Rhetoric - Effects Of Verbal Abuse:
The 2016 election campaigns have given rise to a style of campaigning and political rhetoric on the part of candidates that could described as winning through bullying, or verbal abuse. In this section we'll look at candidate behavior and its effects both on politics and society in general.
| Library Home Page |
Pages Updated On: 14-Sep-2016 - 12:55:03
Bad Resources Removed Dec. 10, 2012