All Couples Should Learn To FIght Fair. Here's How
Check out our mini-guide on how to fight fair, and stop letting badly handled conflict cause pain in your relationships. Download it NOW!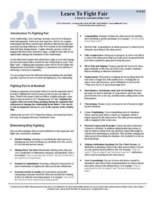 Stop Harming Your Relationship With Your "Big Mouth"
101 phrases you should never use with someone you care about, and what to say instead. Click the image to learn more from the Amazon page.
Available In
Need Exercises And Learning Activities To Teach Conflict Skills?
Check out our free collection of group and training activities. Click here.
Top : Workplace Violence
Support this ad free conflict resolution site by sharing this page with your social media contacts. That helps us help you.
Search Our Network Of Business and Personal Development Sites
Workplace Violence, Situational Awareness And Creating A SAFE Workplace
These days it seems like workplace violence is on the increase, but generally speaking, violent crime is down in the USA and Canada.
It is however, unfortunate that the availability of automatic weapons in the USA makes it easier for disturbed of malevolent individuals to harm MORE people, more quickly.
In any event, ALL workplaces should have proper procedures in place in case of emergencies, both to use when employees feel threatened, and/or when there is actual violence taking place.
Not only do those procedures need to be clear, and consistently applied, but they need to be practiced.
No doubt you've heard of the flight or flight reaction to danger, but in fact, there's another one -- FREEZE, which occurs, and is an put people in jeopardy. When faced with actual violence, or potential violence, people FREEZE first, and that's the critical risk time.
For that reasons, practice is required.
A Special Note for Small Businesses
Small businesses are the worst prepared for violence, and are often the types of businesses targeted by criminals. If you don't know how to make your workplace safer, consult your local law enforcement department for help, which they will gladly provide.
Other Topics Related To Violence In The Workplace
| Library Home Page |
Pages Updated On: 28-Jul-2017 - 11:17:38