All Couples Should Learn To FIght Fair. Here's How
Check out our mini-guide on how to fight fair, and stop letting badly handled conflict cause pain in your relationships. Download it NOW!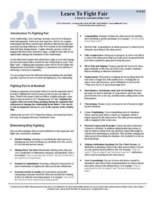 Support this ad free conflict resolution site by sharing this page with your social media contacts. That helps us help you.
Search Our Network Of Business and Personal Development Sites
Chinese Versus American Negotiation Approaches Video
Comparing American and Chinese Negotiation Styles
One of the more sophisticated and interesting free videos available online, this video takes an in depth look at what the speaker believes are the differences (ie. comparing) between American and Chinese negotiation styles. It's presented by Terry Hird, UC Berkeley, Founder of Negotiation-International, who has over 25 years of international business and negotiation under his belt.
The video is about 50 minutes, with Mr. Hird speaking at a lectern, plus there's summary slides. Obviously this video will be of interest to anyone dealing with Chinese within a business context, but it's value goes beyond that.
It will probably help when dealing with other countries and cultures who share elements of culture with China. But even more important, it can be helpful in conceptualizing the differences between any two cultures since it contains some references to various sociological concepts.
Included are differences in roles, coverage of "face", differing values, and more.