All Couples Should Learn To FIght Fair. Here's How
Check out our mini-guide on how to fight fair, and stop letting badly handled conflict cause pain in your relationships. Download it NOW!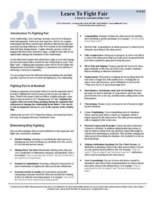 Support this ad free conflict resolution site by sharing this page with your social media contacts. That helps us help you.
Search Our Network Of Business and Personal Development Sites
Negotiating Skills Video
Speak First - Communication Training - Negotiation Skill
This is a good negotiation video clip that demonstrates how success is achieved by striking a balance between relationships and results. An excellent example of how to negotiate is presented.

Here's the original blurb for the video which is a promotion for a negotiating skills course.
Like it or not in today's increasingly competitive markets negotiation is part of everyday life. It can be difficult to maintain a balance between the relationship and agreeing a good price. Our tried and tested negotiation techniques can be used in a wide variety of business situations and are aimed at ensuring you increase your profits and achieve a win-win. We will show you how to become a better negotiator and achieve great results.
This course is designed for people who are buyers and purchasers, in sales, relationship managers and those who have to negotiate with more senior people -- in fact anyone who takes part in negotiations will benefit from attending.