All Couples Should Learn To FIght Fair. Here's How
Check out our mini-guide on how to fight fair, and stop letting badly handled conflict cause pain in your relationships. Download it NOW!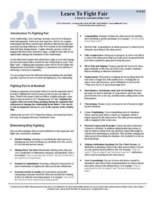 Support this ad free conflict resolution site by sharing this page with your social media contacts. That helps us help you.
Search Our Network Of Business and Personal Development Sites
Negotiating Salary Free Video
How to Negotiate Candidate Salary and Compensation for Job
This video clip is aimed at the company recruiter who is typically working with both the job candidate and the company to negotiate a salary that meets both parties' expectations. Some good salary negotiation techniques are shared. Did you know that from the recruiter's point of view, getting a salary preference from the candidate is preferred early in the process? Find out why when you view this clip. Also, some great questions that a 'salary closer' needs to ask the candidate regarding his salary expectations are included.