All Couples Should Learn To FIght Fair. Here's How
Check out our mini-guide on how to fight fair, and stop letting badly handled conflict cause pain in your relationships. Download it NOW!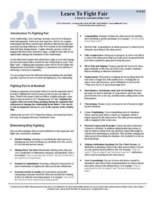 Support this ad free conflict resolution site by sharing this page with your social media contacts. That helps us help you.
Search Our Network Of Business and Personal Development Sites
William Ury on Getting to Yes and No Video
Say NO and Still Get To YES - A Brief Video Interview With William Ury
Author William Ury discusses his latest book - the last in his negotiation series - 'The Power Of A Positive No'. According to Ury, saying 'no' is today's biggest challenge. Learn what he means when he introduces his concept of building a golden bridge and how this is a good negotiation tactic.
25 years after publishing the bestselling GETTING TO YES, William Ury releases THE POWER OF A POSITIVE NO. The other side of the coin is explored as Ury explains how to say NO to what you don't want and still get people to say YES to what you do.