All Couples Should Learn To FIght Fair. Here's How
Check out our mini-guide on how to fight fair, and stop letting badly handled conflict cause pain in your relationships. Download it NOW!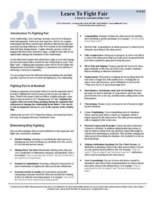 Support this ad free conflict resolution site by sharing this page with your social media contacts. That helps us help you.
Search Our Network Of Business and Personal Development Sites
The Secret: Ask not what your team can do for you, but what you can do for your team, and you'll reap personal returns.
Here's A Powerful Way To Be A Great Team Member and Team Player
How To Contribute To Your Own Team's Health...
There IS An "I" In Team, and It's YOU
Almost everyone works as part of a team, even if it's not called that. A team is a group of people working towards similiar or the same goals, where the team members are inter-dependent and need each other to achieve those common goals. These days, there's probably not a single workplace, where employees don't depend on each other in some way. This makes "team" much more than a buzz word. Teams and teamwork reflect the realities of getting things done.
The problem is that while we are social creatures, we aren't necessarily skilled in working in such an inter-dependent world. Particularly in the Western world, we work within a highly individually based culture that focuses on INDIVIDUAL wins, and collective failures, with a tendency to look to other team mates when it comes to evaluating how our teams are doing. That doesn't work. A team wins AND loses based on the entire team. If we want better teams, and want to be better team members, we need to stop looking at what others are doing, and look to ourselves -- how we contribute to the teams we are in. Start from YOU.
That's where this unique helpcard comes in.
The Point: We all have a tendency to look at other team members when the best place to start improving our teams is with ourselves. After all, our own attitudes, words and actions are really the only things that are directly under our control. It's not possible to improve teams by trying to force others to do things differently.
Contributing To Your Team Helpcard is an excellent starting point to:
Reassess how you, personally, can be a super-contributor to your team's success.
Begin the process of discussing how a team can apply the techniques on this card -- ideal if each team members has a copy of the card (our licensing program allows you to save up to 75% on multiple copies.
Help other teams develop more effectively, if you are a team leader, manager or human resources professional.
About The Author: Robert Bacal is a noted author, conference speaker, and consultant on the subjects of interpersonal communication and team development.
How To Contribute To Your Own Team's Health Helpcard provides twenty four critical tips on how each person can contribute optimally to the productivity and effectiveness of the team. In addition it contains ten characteristics of effective teams.
Ideal for individual team-members, team leaders and those involved in team building..
What's included?
Ten characteristics of effective teams
How YOU can contribute
Creating blame avoidance
Taking on personal responsibility
Communication for effective teams
Handling workload issues
Constructive behavior in meetings
Client relations issues.