All Couples Should Learn To FIght Fair. Here's How
Check out our mini-guide on how to fight fair, and stop letting badly handled conflict cause pain in your relationships. Download it NOW!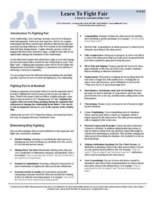 Support this ad free conflict resolution site by sharing this page with your social media contacts. That helps us help you.
Search Our Network Of Business and Personal Development Sites
Develop your conflict management, resolution and communication skills from these free articles
Build conflict resolution and communication skills
Conflict and Communication Related Articles by Robert Bacal Page 1
Robert Bacal has written numerous books and articles on conflict, and related topics such as communication and defusing hostile and difficult people. On these pages, you will find links to his articles and book chapters to help you improve your ability to understand and deal with conflict at home and at work.
This page contains articles related specifically to conflict and communication. There are a number of pages to this section, and a wide range of subject matter related to conflict management, conflict prevention, and communication as it relates to conflict.
Using The CARP Model To Manage Conflict Constructively
This three part article maps out four steps to follow in dealing with interpersonal conflict at work or at home. Following the model will help you reduce the emotions attached to the conflict, and help you move to solving the conflict quickly and constructively.
Applying Bacal's Law Of Meaningless Utterances
How can you tell if something someone says means what it sounds like, is really meaningless or has a nasty hidden agenda behind it? Check out this article on meaningless utterances.
Defusing Hostile People - Part 1
Want to improve your ability to defuse and deal with angry, difficult and hostile people? Read this - Part I
Defusing Hostile People - Part 2
Want to improve your ability to defuse and deal with angry, difficult and hostile people? Read this - Part II
Internal Communication Strategies - The Neglected Strategic Element
Most people don't think about the relationship between corporate communication within the organization and conflict. The truth is that poor internal communication results in employees and managers that tend to pull in different directions. When goals and functions are confused, conflict results.
Communicating With Your Boss - Getting Heard
There are ways to communicate with "the boss" that create good working relationships, and those that tend to create conflict. Learn to talk to "get the ear of your boss", get heard, and build relationships that run smoother. View
Improving Communication By Eliminating Insinuation
You may not "mean" to do it, but it's easy to insinuate about another person. Insinuation lives "below the surface" of what is said, and if you want to reduce conflict in your life, you need to learn to eliminate it completely.