All Couples Should Learn To FIght Fair. Here's How
Check out our mini-guide on how to fight fair, and stop letting badly handled conflict cause pain in your relationships. Download it NOW!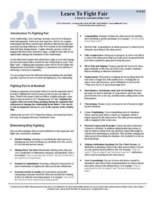 Support this ad free conflict resolution site by sharing this page with your social media contacts. That helps us help you.
Search Our Network Of Business and Personal Development Sites
Negotiating Skills Video
Secrets of Negotiating - Roger Dawson
This is an interesting clip that helps one understand that the game of negotiation of comparable to the game of chess. That is, it is to one's benefit to be able to predict the other side's moves. Roger Dawson describes something he calls 'the vice gambit', and explains why it is so effective a negotiating tool.
This is a promotional video but it's entertaining and useful. Here's the original video excerpt text.
Everyone, everywhere, negotiates every single day. And there's no better negotiator than Roger Dawson. His best-selling audio program, The Secrets of Power Negotiating, is considered the best program on negotiating," the definitive classic on an extremely difficult and intimidating subject. Yet, as Mr. Dawson explains so clearly in his fast-paced and content-filled presentations, it's a skill everyone can learn-to the lasting benefit of every organization.