All Couples Should Learn To FIght Fair. Here's How
Check out our mini-guide on how to fight fair, and stop letting badly handled conflict cause pain in your relationships. Download it NOW!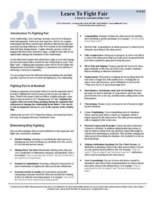 Support this ad free conflict resolution site by sharing this page with your social media contacts. That helps us help you.
Search Our Network Of Business and Personal Development Sites
Negotiating Skills Video
Negotiation Skills Seminar Excerpt
This clip, although not orginal in thought or concepts of negotiation brings home the message that if you don't negotiate, the chances are great that you will not get better results. It's about 4 minutes long, but what may interesting here is that the seminar appears to be delivered somewhere in the East (Asia) and the guests are Asian, so it may reflect that culture.