All Couples Should Learn To FIght Fair. Here's How
Check out our mini-guide on how to fight fair, and stop letting badly handled conflict cause pain in your relationships. Download it NOW!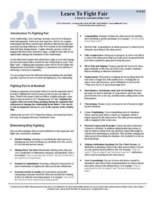 Stop Harming Your Relationship With Your "Big Mouth"
101 phrases you should never use with someone you care about, and what to say instead. Click the image to learn more from the Amazon page.
Available In
Welcome to the main page of our public service site - your free conflict help center
Welcome To The Free Conflict Help Center
Where ever people gather and interact there will be differences of opinion, conflict, disagreements, disputes and arguments. It's a normal part of human functioning. We all have a tendency to shy away from conflict or view it as a negative process. What's easy to forget is that conflict can be a negative thing, or it can be positive depending on the characteristics of the conflict, and how we manage and handle disputes and disagreements.
This public service site was built to help people improve their ability to manage conflict effectively once it starts, and to prevent unnecessary conflict and misguided conflict escalation
Features of This Conflict Site
Read free articles, tips and hints about managing conflict, interpersonal disagreements, and arguments written by conflict author and consultant, Robert Bacal
Find hundreds of free conflict management and resolution articles annotated and available on the Internet. This conflict material ranges from the abstract (models of conflict) to conflict style instruments you can take online, through to workplace violence. We've included hundreds of hints, tips and practical suggestions about how you can reduce the frequence and intensity and damage of conflict situations at home, and at work.
Learn: We've produced an innovative book on preventing conflict, and some shorter tools called "helpcards" that will help you with anger management, thinking through conflict strategies and getting along with other people. They pertain both to conflict, and to communication, since communication is so often implicated in conflict situations. Free previews are available for all of these learning tools, and they are available in printed format or via electronic download.
Subscribe free of charge to our Work911 newsletter that contains updates on new articles added to the site, and articles, tips and hints on all aspects of workplace success
---
Suggestion: There is a huge amount of conflict management, resolution material on this site. We suggest that you take your time and explore using the links in the top menu, and/or the drop down menus at the top.
The Conflict Library on this site contains over 1,000 articles, resources and tools to help you understand and manage conflict more effectively. To access all categories about conflict click here.
---
Newest Conflict Related Resources On This Site:
Resolutions and the blame game

By Peter G. Vajda

- While not directly about conflict and fighting fair, this is a great article to stimulate your thinking about whether you blame others for misfortune, and thus create conflict with others.

new

(Added: 3-Feb-2016 Hits: 0
Corporate diversity helps image and bottom line

By JEFF WILKINSON

- The next, or most recent focus for diversity is the LGBT segment, and this article looks at the advantages of proactively creating a diverse workforce. Chief HR officer for Michelin is interviewed

(Added: 23-Nov-2015 Hits: 194
Anger Management - Self-Management Techniques

By na

- Some anger issues require professional help, but it's possible, with minor anger challenges, to learn a few basic self management techniques to help you keep your angry behavior in check. Here's some basics you can work on.

(Added: 12-Nov-2015 Hits: 244
Apologies: When, How, Why? It's Not That Simple

By Sara Rickover

- Apologies aren't that simple. This article looks at why one might apologize (or not), and what to consider before offering the apology. Focuses on businesses and the workplace.

(Added: 29-Oct-2015 Hits: 304
How to Prevent Workplace Conflict

By Eva Rykrsmith

- It's far better to prevent conflict compared to having to manage it after it has escalated. Here are some basic tips for conflict prevention in the workplace.

(Added: 20-Oct-2015 Hits: 286
How to Reconcile a Broken Friendship

By Anna Sofie-Hickson

- Find out what you can do to fix a friendship when it's broken. Have hope because many times you can re-establish things using the advice in this article.

(Added: 8-Oct-2015 Hits: 243
Managing Conflicts In Friendships

By E.E. Kane

- Taking responsibility for yourself and preventing conflict in the first place are the cornerstones of these strategies for dealing with conflict among your peers.

(Added: 8-Oct-2015 Hits: 295