All Couples Should Learn To FIght Fair. Here's How
Check out our mini-guide on how to fight fair, and stop letting badly handled conflict cause pain in your relationships. Download it NOW!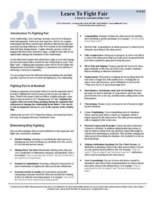 New! The Conflict Crossword Puzzle
Test your conflict management and resolution ability via this free interactive conflict crossword.
Welcome to the main page of our public service site - your free conflict help center
Welcome To The Free Conflict Help Center
Where ever people gather and interact there will be differences of opinion, conflict, disagreements, disputes and arguments. It's a normal part of human functioning. We all have a tendency to shy away from conflict or view it as a negative process. What's easy to forget is that conflict can be a negative thing, or it can be positive depending on the characteristics of the conflict, and how we manage and handle disputes and disagreements.
This public service site was built to help people improve their ability to manage conflict effectively once it starts, and to prevent unnecessary conflict and misguided conflict escalation
Features of This Conflict Site
Read free articles, tips and hints about managing conflict, interpersonal disagreements, and arguments written by conflict author and consultant, Robert Bacal
Find hundreds of free conflict management and resolution articles annotated and available on the Internet. This conflict material ranges from the abstract (models of conflict) to conflict style instruments you can take online, through to workplace violence. We've included hundreds of hints, tips and practical suggestions about how you can reduce the frequence and intensity and damage of conflict situations at home, and at work.
Learn: We've produced an innovative book on preventing conflict, and some shorter tools called "helpcards" that will help you with anger management, thinking through conflict strategies and getting along with other people. They pertain both to conflict, and to communication, since communication is so often implicated in conflict situations. Free previews are available for all of these learning tools, and they are available in printed format or via electronic download.
Subscribe free of charge to our Work911 newsletter that contains updates on new articles added to the site, and articles, tips and hints on all aspects of workplace success
---
Suggestion: There is a huge amount of conflict management, resolution material on this site. We suggest that you take your time and explore using the links in the top menu, and/or the drop down menus at the top.
The Conflict Library on this site contains over 1,000 articles, resources and tools to help you understand and manage conflict more effectively. To access all categories about conflict click here.
---
Newest Conflict Related Resources On This Site:
Bullying Works: Why People Fear Donald Trump
By Stanton Peele
- From Psychology Today, a psychologist looks at Trump's behavior and notes that one of the reasons its used is because bullying works, particularly when bystanders do not intervene or convey their refusal to accept bullying.
new
(Added: 9-Mar-2016 Hits: 0
Trump Cards: The Abuser's Game-Changer
By Cindy Burrell
- Trump cards are often used by verbal abusers to end a conversation. Learn more about what they are so you can recognize them if you use them, or if somehone uses trump cards on you.
new
(Added: 9-Mar-2016 Hits: 0
Consider Trump: Will a School-Yard Bully Soon Rule the USA?
By Greg Holt
- This is clearly a partisan politics piece, but it addresses an interesting question: Is Trump's behavior as a candidate a legitimate reflection of himself as a person, or is it, to a great extent, put on and orchestrated. The answer: It's real.
new
(Added: 9-Mar-2016 Hits: 0
Donald Trump and the art of the insult
By Roy Peter Clark
- A fun analysis of Trumps Boast and Insult approach to interactions that includes some very clever insults from past presidents, a comparison to promos from professional wrestling and more. Read it for the nuggets of truth about American society.
new
(Added: 9-Mar-2016 Hits: 0
How to handle Donald Trump's bullying
By Dana Milbank
- Looks at Trump's campaign behavior in light of bullying, and compares its features to how child bullies behave. Applies not only to children but contains some hints about how adults might want to handle bullies they encounter.
new
(Added: 9-Mar-2016 Hits: 0
An appetite for aggression
By Gillian Tett
- Thoughtful discussion of how Trump, and other candidates have driven the level of discourse downward. The article ends like this: "In other words, in todayís world, is it inevitable that cyber and real speech reinforce and amplify each other, creating a spiral of vitriol?"
new
(Added: 9-Mar-2016 Hits: 0
Just how unique is the political rhetoric of the Donald Trump era?
By Janell Ross
- An intelligent and relatively politics free discussion of political rhetoric, discussing those in the past who have used it well, and also attack tactics of the current campaign. QUote: "So I do have to acquiesce that there is a tenor in the current political rhetoric that is dangerous, especially to those who are minorities or who see themselves as less than powerful."
new
(Added: 9-Mar-2016 Hits: 0
10 ways to handle disagreements effectively
By Calvin Sun
- Some excellent advice that goes beyond the pat "10 ways" articles. I particularly like "Make sure there IS a disagreement".
new
(Added: 3-Feb-2016 Hits: 156
Resolutions and the blame game
By Peter G. Vajda
- While not directly about conflict and fighting fair, this is a great article to stimulate your thinking about whether you blame others for misfortune, and thus create conflict with others.
new
(Added: 3-Feb-2016 Hits: 135
Corporate diversity helps image and bottom line
By JEFF WILKINSON
- The next, or most recent focus for diversity is the LGBT segment, and this article looks at the advantages of proactively creating a diverse workforce. Chief HR officer for Michelin is interviewed
(Added: 23-Nov-2015 Hits: 266
Anger Management - Self-Management Techniques
By na
- Some anger issues require professional help, but it's possible, with minor anger challenges, to learn a few basic self management techniques to help you keep your angry behavior in check. Here's some basics you can work on.
(Added: 12-Nov-2015 Hits: 323