All Couples Should Learn To FIght Fair. Here's How
Check out our mini-guide on how to fight fair, and stop letting badly handled conflict cause pain in your relationships. Download it NOW!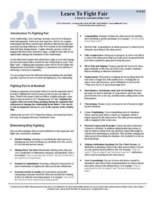 Support this ad free conflict resolution site by sharing this page with your social media contacts. That helps us help you.
Search Our Network Of Business and Personal Development Sites
The Curated Conflict Management and Resolution Library
Welcome To The Conflict Library
You can't avoid conflict in your life, at home, at work, and even at play. Wherever people interact, there is a potential for conflict. That's not bad news because good things can arise, and relationships can improve through conflict, provided conflict is managed with thought and attention. The bad news is that most of us are fairly limited in how we manage and resolve conflict situations, often throwing gasoline on the fire. It doesn't have to be that way.
We've gathered together the best and most useful free online resources and tools to help you manage and cope with conflict more effectively. Whether you want to learn about conflict at work, between siblings, within the family, or any other context, you'll be sure to find help on these pages. Originally created for our own research purposes, we decided to publish the directory so others could use it.
Conflict Topics:
Diversity and Multicultural Issues (21) new

Learn about diversity and culture, how to create diverse organizations, and increase your understanding of the links between diversity, culture and conflict. Practical suggestions about resolution of conflict that is linked to culture.


(Doing Business Abroad)

Free articles and papers related to Emotional Intelligence, Goleman, and others.




In this section you'll find descriptions and links to free training activities and exercises that can be used to teach conflict management and conflict resolution skills to all ages.




Facilitation (14)

Articles about the faciliating process in groups and dyads and about facilitators




Parents and children often come into conflict over large and small issues, regardless of age of the children. Learn more about dealing with conflicts between parents and children from these resources.




Conflict with brothers and sisters is a natural process, and occurs in every family. Learn more about conflict between siblings and sibling rivalry and how to deal with it.




Fighting Fair (8)

Sometimes it's not whether you win or lose an argument but how you act during an argument that dictates a positive or negative outcome. Learn to "fight fair" during disagreements and conflict.




Friends often encounter disagreements, and conflicts, and that can be distressing. In this section you'll find valuable ideas about how to both prevent and deal with conflict with friends.




High Conflict People (12)

A term many of us haven't heard before is "high conflict people", those that are involved frequently in conflict, and/or handle conflict badly. Here's valuable information on this topic, for both people who fit this description, and those that help them.




LESS Conflict (5)

You can exist with people without disagreement and conflict, but what you can do is reduce UNNECESSARY conflict. The way you communicate and think makes a difference in the frequency of conflicts you get involved in. In this section we will look at methods and strategies you can use to REDUCE the amount of conflict in your life.




Labor Law (0)

Conflict at work can be subject to various labor laws. Learn more about labor laws, how they may protect both employee and employer.




Something many people have trouble with is letting go of a conflict, and its associated emotions. Some experts call it conflict resilience or the ability to bounce back. Here's some help.




It's impossible to get rid of disagreements but it's possible to learn to manage disagreements constructively. Learn how from these online tools




Marital Conflict (10)

Most married couples experience conflict sometimes. Learn about then nature of conflict in marriage, and steps to take to reduce and manage it effectively.




If you've gone through a divorce you know how conflict riddent the process is for you, and the damage that can occur for children. Find hints, tips and ideas for reducing conflict in these situations and making the best of tough family situations.




Mediation (25)

Learn how mediation is used to resolve conflicts in business and in family disputes and divorces. Find information to help you participate, or browse information about mediation techniques and skills for mediators.




Meetings are often where conflict between individuals breaks out from a simmering state to boiling over, creating hard feelings, waste of time, and productivity. In this section, you'll find ideas on how to reduce unnecessary conflict in various kinds of meetings.




Negotiating And Negotiation (17) new

For articles about the negotiating process, between individuals or companies. Learn new negotiating skills




Here you can access online media (podcasts, audio programs, videos, even online courses) on the topic of conflict and anything related.




Free articles on personality and learning styles, including MBTI, (Myers-Briggs), Disc, Enneagram, etc. Also research


(MBTI) (Personality Conflicts)

The 2016 election campaigns have given rise to a style of campaigning and political rhetoric on the part of candidates that could described as winning through bullying, or verbal abuse. In this section we'll look at candidate behavior and its effects both on politics and society in general.




Find free help, tips and suggestions for dealing with sexual harrassment. Learn the law, corporate and Human resource responsibility, and what to do if you think you have been a victim.




Unclassified Conflict Ideas (9) new

For conflict related resources that are valuable but not yet classified, or do not fit in an existing conflict category.




Verbal Abuse (7)

Verbal abuse at work or home is disturbing for everyone, and of course, the target. Find articles about all aspects of verbal abuse here.




Conflicts at work, with customers, colleagues and other employees can sometimes boil over into workplace violence. Learn about workplace violence prevention, crisis planning, domestic violence as it affects work, and more.



There are
566
conflict and communication resources for you to choose from!
Pages Updated On: 28-Jul-2017 - 11:17:38
Outdated links last removed on Sept. 13, 2016