All Couples Should Learn To FIght Fair. Here's How
Check out our mini-guide on how to fight fair, and stop letting badly handled conflict cause pain in your relationships. Download it NOW!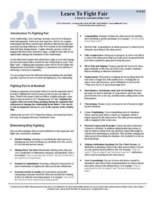 Support this ad free conflict resolution site by sharing this page with your social media contacts. That helps us help you.
Search Our Network Of Business and Personal Development Sites
Where people come to learn to manage conflict more effectively
About Bacal & Associates and This Site
Message From Site Owner
Robert Bacal
Welcome to the conflict help center. This site emerged out of my need to find high quality resources on various aspects of conflict management and resolution, either at work or in the family. After collecting all kinds of conflict related materials, I decided to make it all available on the web, free of charge.
Bacal & Associates provides learning resources to help people communicate and get along better; training seminars, helpcards, and books. In addition to the material available on this site, you might want to check out my books published by McGraw-Hill and Alpha Publishing, available through your local book stores or through amazon. com. (see below).
I hope you find this site useful.