All Couples Should Learn To FIght Fair. Here's How
Check out our mini-guide on how to fight fair, and stop letting badly handled conflict cause pain in your relationships. Download it NOW!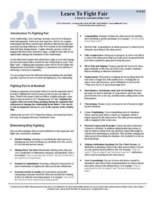 Support this ad free conflict resolution site by sharing this page with your social media contacts. That helps us help you.
Search Our Network Of Business and Personal Development Sites
Dissolving Conflict Through Reframing
Reframing is a valuable tool to help you clarify your thinking about a conflict and understand the situation calmly.
Dissolving Conflict Through Reframing
Summary: A short but insiteful article that explains reframing as a technique to gain clarity, and keep your cool during conflicts and arguments.
Reframing is looking at the situation with a new set of eyes. Its asking your self if you have a clear picture of the situation and of what is happening around you.
Many people get so caught up in a situation that they take on the other persons issues as their own. When you can remain calm, take a step back, you can ask your self, am I seeing this issue clearly or can I look at it differently?
For example, ask:
Is this person really angry at me?
Are they hurting and scared?
Do I have all of the facts?
Have I missed something that is important to them?
What might be the real issue hear?
Do I really want to hand my power over to them by reacting?
It's asking:
How do I want to be in this situation?
How would I want to be treated it the situation were reversed?
Quite often people will react to a situation and fly off the handle instead of respond to it. In most cases, people have stated that they regret later when they flip out instead of finding out why the other perosn was upset. When you are able to reframe, it can help you to respond to situations and command control and confidence in your own life. And that is truly what matters.
If you react to something that someone else has done or said, you get hook into the other persons stuff.
When you start to match their attitude and sling at them insult for insult, you will lose at getting what you need and any chance at helping the other person calm down and discovering what it is they really need.
Ironically, most people are not mad at the person that they are yelling at and if we yell back, it will be difficult to find out what the real issue is.
In a response, you hear what the other person is saying without interrupting. It is important not to cut them off, as that would add fuel to the fire. Most people just want to be heard and they are used to dealing with uncooperative people.
You will win them over just by remaining calm and showing them that you heard them. This is when empathy can be very empowering. You will be the one in control and staying in your own power, which is a whole lot better than being a puppet on a string at the control of anyone who gets upset around you.
All the Best!
Maria Boomhower
The Master Communicator
To sign up for a free report on "The 7 Secrets to Communication Mastery" go to: http://www.falconfreedom.com. To read past newsletter articles go to: Master Communicator Blog