All Couples Should Learn To FIght Fair. Here's How
Check out our mini-guide on how to fight fair, and stop letting badly handled conflict cause pain in your relationships. Download it NOW!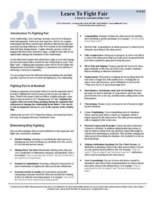 Support this ad free conflict resolution site by sharing this page with your social media contacts. That helps us help you.
Search Our Network Of Business and Personal Development Sites
How to manage a difficult boss
How To Manage A Difficult Boss, Part I
This is an interesting clip deveoted to techniques for managing your boss. The title however, should be 'How To Manipulate Your Boss' rather than 'How To Manage Your Boss'. The four tips discussed here are presented as
ploys for looking out for number one, and while this may be appropriate for working with some bosses, I would suggest that if these tactics are required, it's time to ask for a transfer. In any event, view this clip if you are interested in learning how to (in a passive/aggressive way) communicate your support, your grievances, and your ideas or suggestions.
However, viewers should consider using these tactics carefully before trying them, because they tend to be covert, or manipulative in themselves, and can indeed backfire. We don't necessarily endorse the use of these techniques, particularly if you hope to have a better relationships with the manager over the long haul.