All Couples Should Learn To FIght Fair. Here's How
Check out our mini-guide on how to fight fair, and stop letting badly handled conflict cause pain in your relationships. Download it NOW!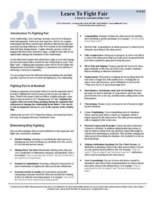 Support this ad free conflict resolution site by sharing this page with your social media contacts. That helps us help you.
Search Our Network Of Business and Personal Development Sites
Negotiation Skills and Basics Video
NEGOTIATION The art of survival & craft of winning
An eight minute instructional video which, in a short time span presents information about negotiation, what it's for, and manages to include some excellent tips and advice on how to negotiate more effectively, and some pitfalls to avoid. It's in the format of a powerpoint type slide show with a voice over, but it's not dull, and it's reasonable length means it's not difficult to pay attention.
From the negotiation instructor:
Negotiation as the game of life and business, the strategy to achieve, and the art of finding solutions. Briefly discussing Objectives & Disruptions of negotiation.