All Couples Should Learn To FIght Fair. Here's How
Check out our mini-guide on how to fight fair, and stop letting badly handled conflict cause pain in your relationships. Download it NOW!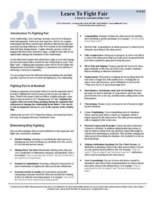 Search This Site and Our Network
Now you can search this site on conflict but also our other sites on management, communication, planning, and lots more.
How to manage a difficult boss
Negotiation - Bonner's Lemon Law
This clip is a memorable lesson in negotiation and communication. See how
asking the right questions can be so powerful that each party can get what
they need, without compromise.
Original description:
Shows how at least 26 people can be satisfied in a two party negotiation!
This is based on the orange story which is based on Mary Parker Follett. Some authors reference Pareto's optimum chart, while Moore borrows the idea without attribution. I have not yet found an original citation for Pareto being involved in this issue. However, the discussion question is whether this is a demonstration, simulation, game or just a lecture with visual aids? Is it the best way to teach this lesson?
Class simulation often fail to reveal underlying interests and creative solutions. This may be a manifestation of the business experience of participants. Repeating simulations that fail in this way may not teach students to ask probing questions as much as this exercise.