All Couples Should Learn To FIght Fair. Here's How
Check out our mini-guide on how to fight fair, and stop letting badly handled conflict cause pain in your relationships. Download it NOW!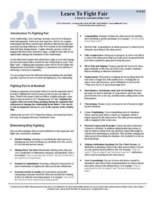 Stop Harming Your Relationship With Your "Big Mouth"
101 phrases you should never use with someone you care about, and what to say instead. Click the image to learn more from the Amazon page.
Available In
Need Exercises And Learning Activities To Teach Conflict Skills?
Check out our free collection of group and training activities. Click here.
Top : Arbitration
Support this ad free conflict resolution site by sharing this page with your social media contacts. That helps us help you.
Search Our Network Of Business and Personal Development Sites
Arbitration: Arbitration is the process of resolving a dispute or a grievance outside of the court system by presenting it to an impartial third party or panel for a decision that may or may not be binding. Read more details about the arbitration process in this category. It is a less costly method of resolving conflict and you can learn more about it here. If you are researching various alternatives to conflict resolution, check out this category to help you choose the best method for you to resolve your conflict.
From  Paul Bielaczyc is a little more detail on the arbitration process:
What is Arbitration?
Arbitration is another Alternative Dispute Resolution (ADR) process where the parties select an attorney or a retired judge to conduct a hearing. Witnesses are sworn in, and testimony is presented. Evidence can also be offered by way of documents and writings. The same rules of evidence admissibility in court are used during the arbitration hearing. Once the case is presented by all sides, a decision of the arbitrator is provided in order to decide the prevailing party on the issues of dispute. Although arbitrations resemble trials, they offer less formal procedures and the potential for abbreviated presentation of issues.
What are the advantages of arbitration?
Similar to mediation, arbitration as an alternative to litigation can allow for the saving of time and money to resolve a dispute. The parties can set limits on discovery and the issues to be decided by the arbitrator. These limitations can affect who will testify at the arbitration and what type of evidence will be allowed. The parties have more control of the arbitration process compared to court administered litigation, including where and when the hearing will be conducted. Monetary limits can also be set preventing an arbitration award from exceeding a certain value or assuring that a minimum monetary recovery is obtained.
Are there different types of arbitration?
A dispute can be arbitrated because of the terms of a contract agreement. This type of arbitration is usually recognized as binding, where no appeal of the arbitrator decision is allowed. By contrast, a non-binding arbitration allows the parties to seek some manner of appeal, often a request for a jury or judge trial. Non-binding arbitrations more often then not arise from a lawsuit that has been filed. Many times, non-binding arbitrations give the parties the chance to test their case and obtain a neutral evaluation of the merits. This method of arbitration can lead as well to negotiation for potential settlement instead of appeal.
What are the costs and time involved in conducting an arbitration?
The fee of the arbitrator is often times similar to that of a mediator. Arbitrators regularly charge $300.00 per hour and higher. These fees are shared equally by all sides, unless another arrangement is made. Since the parties are able to limit the potential number of witnesses and the breadth of testimony, they can usually set time limits on the length of the hearing. However, the amount of time necessary to complete the arbitration is dependent upon the complexity of the dispute.
More Information On Arbitration To Address Conflicts
Related Conflict and Communication Topics
| Library Home Page |
Pages Updated On: 28-Jul-2017 - 11:17:38