All Couples Should Learn To FIght Fair. Here's How
Check out our mini-guide on how to fight fair, and stop letting badly handled conflict cause pain in your relationships. Download it NOW!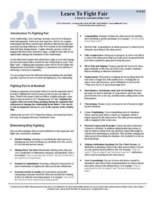 Stop Harming Your Relationship With Your "Big Mouth"
101 phrases you should never use with someone you care about, and what to say instead. Click the image to learn more from the Amazon page.
Available In
Need Exercises And Learning Activities To Teach Conflict Skills?
Check out our free collection of group and training activities. Click here.
Top : Fighting Fair
Support this ad free conflict resolution site by sharing this page with your social media contacts. That helps us help you.
Search Our Network Of Business and Personal Development Sites
Fighting Fair: The ONE Skill Essential To Your Career And Relationships
The research is absolutely clear. It's possible to predict which couples will last over time by looking at how they deal with conflict.
It makes no difference WHAT you argue about. What does make a difference is whether to have conflicted discussions in ways that damage the long term relationship OR hurt the other person.
Applies To Your Career, Too
While there isn't much research that looks at whether being better at disagreeing or "fighting" affects career success and advancement, it makes sense that it would.
When you handle disagreements in ways that poison your work relationships, you are much less likely to receive bonuses, promotions and additional responsibilities.
The reason is obvious:
If you cause more "hassle" in the workplace your value decreases in the minds of managers and colleagues.
Conclusion On Fighting Fair, Or Disagreeing Without Being Disagreeable
So, if you want to learn ONE skill set to help you with your personal and career goals, learn to fight fair, or to use other words, learn to disagree without becoming disagreeable.
Guides And Advice On Fighting Fairly
Related Topics On Managing Disagreements
| Library Home Page |
Pages Updated On: 28-Jul-2017 - 11:17:38