All Couples Should Learn To FIght Fair. Here's How
Check out our mini-guide on how to fight fair, and stop letting badly handled conflict cause pain in your relationships. Download it NOW!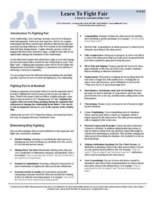 Support this ad free conflict resolution site by sharing this page with your social media contacts. That helps us help you.
Search Our Network Of Business and Personal Development Sites
Top : Conflict Management For Managers:
Managers and supervisors play special roles in helping their employees and organizations deal with conflict and manage it. Leadership is part of it, but so is mediating, negotiating, etc. Here you'll find help for managers and supervisors.
| Library Home Page |
Pages Updated On: 28-Jul-2017 - 11:17:38
Bad Resources Removed Dec. 10, 2012