All Couples Should Learn To FIght Fair. Here's How
Check out our mini-guide on how to fight fair, and stop letting badly handled conflict cause pain in your relationships. Download it NOW!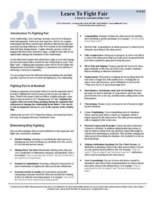 Stop Harming Your Relationship With Your "Big Mouth"
101 phrases you should never use with someone you care about, and what to say instead. Click the image to learn more from the Amazon page.
Available In
Need Exercises And Learning Activities To Teach Conflict Skills?
Check out our free collection of group and training activities. Click here.
Top : Boss and Conflict With Managers
Support this ad free conflict resolution site by sharing this page with your social media contacts. That helps us help you.
Search Our Network Of Business and Personal Development Sites
Steps To Resolve Conflict With Your Boss: Start With Understanding The Cause
We will all experience some degree of conflict with our bosses, or at least disagreement. Where things become difficult, for you for the boss, and for your co-workers is if that conflict is ongoing, and tends to be acted out in negative or destructive patterns.
Your first step in trying to prevent conflict moving into that destructive zone, or to resolve it once it has become negative, is to diagnose what is causing the conflict.
Obviously, the cause(s) of your conflict are going to be different than other conflicts between other people, but there are patterns that occur between bosses and employees.
Most Common Reasons For Boss-Employee Conflict:
Role Confusion: Your boss and you constantly clash either you and your boss have different ideas about what your role should be (and his or hers), or the two of you have never actually discussed it to come to clear agreement (Based on Managing Conflict with Your Boss by Davida Sharpe and Elinor Johnson).
Different Perspectives And Vantage Points
Management has different information in hand. You have other, different information, by virtue of your different experiences and contacts in your job. This can lead to very different perceptions about what needs to be done, priorities, etc, and even strategies.
You Lack Confidence In Competence Of Your Boss
For whatever reason, you believe that your manager is unskilled, or somehow lacks the ability to be an effective manager. That colors your view, and results in you framing disagreements in destructive ways, rather than working them through.
Your Boss Has No Confidence In You
If your boss has little confidence in you to get the job done, or to act reliably or effectively, then the boss is going to frame issues in terms of your competence, even if you are competent.
Mismatches In Ethics, Integrity And Values
If you and your boss differ significantly in terms of what you see as ethical behavior, or your values are significantly different, conflict often erupts and it can be exceedingly emotionally loaded. This is one of the tougher situations to manage.
Answer The "Why", Then Start Making Decisions
There may be other causes of conflict operating in your particular situation. Since it takes two to have a conflict, you may have to talk to your boss to find out his or her perspective -- in fact that's an important step.
Once you have some idea of the underlying root causes, you can then make a decision about whether you want to resolve the conflict, or rather how you want to go about it.
In some cases, the answer is to leave. In others it's to work with the boss to try to solve the problem that is no doubt unpleasant to both of you. Or, you may have other options, like getting transferred, or even going over the boss' head.
Below are some additional resources to help you navigate these kinds of tough conflict situations.
How To Manage Conflict With Your Boss
Related Conflict and Communication Topics
| Library Home Page |
Pages Updated On: 28-Jul-2017 - 11:17:38