All Couples Should Learn To FIght Fair. Here's How
Check out our mini-guide on how to fight fair, and stop letting badly handled conflict cause pain in your relationships. Download it NOW!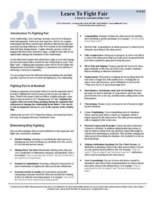 Search This Site and Our Network
Now you can search this site on conflict but also our other sites on management, communication, planning, and lots more.
Top : Conflict Quizzes and Assessments:
Here you'll find online tools (free) that can be used to identify your conflict management styles, organizational health, and other related quizzes and assessments.
| Library Home Page |
Pages Updated On: 14-Sep-2016 - 12:55:03
Bad Resources Removed Dec. 10, 2012