All Couples Should Learn To FIght Fair. Here's How
Check out our mini-guide on how to fight fair, and stop letting badly handled conflict cause pain in your relationships. Download it NOW!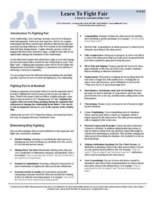 Stop Harming Your Relationship With Your "Big Mouth"
101 phrases you should never use with someone you care about, and what to say instead. Click the image to learn more from the Amazon page.
Available In
Need Exercises And Learning Activities To Teach Conflict Skills?
Check out our free collection of group and training activities. Click here.
Top : Verbal Abuse
Support this ad free conflict resolution site by sharing this page with your social media contacts. That helps us help you.
Search Our Network Of Business and Personal Development Sites
Verbal Abuse: Hard To Define Objectively
One of the challenges in communication is to define in some objective way, what constitutes verbal abuse.
When you are exposed to what YOU think is verbal abuse, it FEELS like you can define it, because there's a tendency for the recipient to believe that his or her feelings and reactions to a particular verbal interactions are universal.
This, in itself, creates conflict in relationships, both at home and at work, because the recipient and the sender often use completely different definitions.
To help you out of this dilemma consider the following:
More On Understanding Verbal Abuse
Related Conflict and Communication Topics
| Library Home Page |
Pages Updated On: 28-Jul-2017 - 11:17:38