All Couples Should Learn To FIght Fair. Here's How
Check out our mini-guide on how to fight fair, and stop letting badly handled conflict cause pain in your relationships. Download it NOW!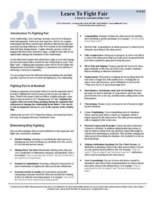 Stop Harming Your Relationship With Your "Big Mouth"
101 phrases you should never use with someone you care about, and what to say instead. Click the image to learn more from the Amazon page.
Available In
Need Exercises And Learning Activities To Teach Conflict Skills?
Check out our free collection of group and training activities. Click here.
Top : Sexual Harrassment And Misconduct In The Workplace
Support this ad free conflict resolution site by sharing this page with your social media contacts. That helps us help you.
Search Our Network Of Business and Personal Development Sites
The Coming Sexual Harassment And Misconduct Crisis: What You Need To Know
The last year (2014) has brought to light a number of high profile sexual harassment and sexual misconduct cases in the workplace. Some have involved politicians, others broadcasters, but no profession is immune.
We often think of sexual harassment and misconduct at work as something that happens in the "lower class" or in a non-professional workplace, but that has always been incorrect.
Everyone Needs To Learn More
Whether you are in human resources, management, or a regular line employee, you MUST learn about the boundaries that separate harassment and misconduct from "normal behavior", both under the law and within your own company.
The lines have always been blurry, but never more than now, and that's one reason why we are seeing more high profile cases hitting the media, and the courts.
We've collected some articles for you to help you understand the boundaries and issues. Before you look below, here are some basics:
Basic Harassment And Misconduct Principles
One reason we have so much difficulty with sexual harassment at work is that relationships are a natural human thing. So, we form them at work. The challenge is finding a middle ground where the boundaries for "relationship conduct" in the workplace are fair, practical, and above all, clear. That's hard to do.
Harassment is not limited to male harassment of women, but occurs the other way around AND among LGBT folks. The issue is to provide a safe, comfortable, non-toxic workplace for ALL. In effect it's not about gender, but about that safe environment.
The definition of harassment is "fuzzy", and that, again makes the boundaries difficult to define. In essence, harassment needs, and is often defined by the key term "UNWANTED" advances. This leaves the recipient more in control of what is and is not harassment, and while that is sometimes unfair, or seems unreasonable to some, it's a necessary part of the law.
Many feel that harassment is part of being politically correct, but that's really not the case. It's about creating workplaces where ALL can be comfortable. That requires we change our views of what is acceptable work behavior. Things change. Things will change.
Finally, it's worth noting that whether you are a manager, executive, human resources professional, or regular employee, understanding sexual harassment is important for YOUR career, and the health of your organization. That's because we are seeing more and more legal cases where large damages are awarded OR, even individuals being charged under sexual assault laws. We are at the point where careers are being lost.
Stay Up To Date On Sexual Harassment And Misconduct At Work
Sexual Harassment - Case Closed?

By Dave Bowman

- Workplace sexual harassment is a serious problem in the United States, and the dimensions of the problem continue to expand. In fact, the largest sexual harassment case in the nation's history was filed recently by the Equal Employment Opportunity Commission (EECO) and 350 female employees against Mitsubishi Motor Manufacturing of America. The total award in this class-action suit was $34 million, nearly $100,000 for each plaintiff.

(Added: 8-Sep-2003 Hits: 1021 )
SUPREME COURT OPENS DOOR TO HARASSMENT SUITS

By Neil Kuenn

- Two significant decisions of the United States Supreme Court have opened the door to more sexual-harassment suits and employers may be sued even for acts of harassment they didn't know about.

(Added: 8-Sep-2003 Hits: 872 )
Sexual Harrassment In The Workplace

By n a

- Sexual harassment is far more prevalent in the workplace than most people realize. A Cornell Law Review article entitled "Exacerbating the Exasperated: Title VII Liability of Employers for Sexual Harassment" reported that between 40% to 90% of women in the United States workforce have been the victims of some form of sexual harassment on the job. As even conservative Ninth Circuit Judge Kozinski recognized: "It is a sobering revelation that every woman - every woman - who has spent time in the workforce in the last two decades can tell at least one story about being the object of sexual harassment."

(Added: 3-Mar-2006 Hits: 1865 )
Related Conflict and Communication Topics
| Library Home Page |
Pages Updated On: 28-Jul-2017 - 11:17:38